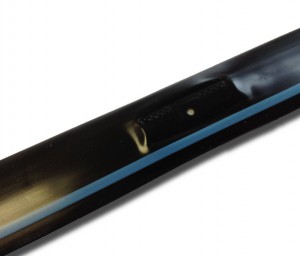 This week, Toro announced its newest micro-irrigation product line, Thinwall Dripline.  Ideal for applications such as subsurface drip irrigation (SDI) and semi-permanent crops, Thinwall Dripline is also great for growers who prefer a flat, molded emitter inside an extruded, thin-walled tube.
The following are the features and benefits of Toro's new Thinwall Dripline:
Flat, molded emitter is highly resistant to plugging to optimize performance in challenging conditions, such as poor water quality and organic fertilizers
Requires only 120-mesh filtration to minimize clogging
Available in 10, 13, and 15 mil wall thicknesses, and popular 5/8" and 7/8" internal diameters to address variable field conditions
Available in five different emitter flow rates, including 0.16, 0.25, 0.30, 0.47, and 0.75 GPH to accommodate various soil conditions and/or system flow requirements
Excellent CV of ≤ 3% for superior field uniformity
Extruded tube constructed from ultra-high strength and premium quality materials allows easy installation and retrieval, saving time and labor
Compatible with all Toro Pro-Loc™ tape fittings
Built with Toro's Blue Stripe® of quality in every reel 
Thinwall Dripline is available in 10, 13, and 15 mil wall thicknesses and is constructed from premium quality materials to maximize the tube's durability and performance.  As a result, installation and retrieval are easier and the life of the dripline is extended, even in rocky and abrasive soils.  Thinwall Dripline's durability also makes it ideal for semi-permanent applications where pruning and harvest damage must be withstood.
To see Toro's new Thinwall Dripline first-hand, stop by the Toro booth – numbers K44 and L43 – at the upcoming World Ag Expo in Tulare, California, Feb. 12–14, 2013.  Or, visit www.toro.com to learn more about Thinwall Dripline and Toro's other micro-irrigation products.