Click here to download Toro's official guide to Subsurface Drip Irrigation (SDI). Click here to read this guide in Spanish.
Micro-Irrigation, also known as drip irrigation, is the fastest growing irrigation technology in the world. !It was commercially introduced in Southern California over 40 years ago to help irrigate crops in challenging terrain and with limited, expensive water supplies. Drip irrigation consists of a network of plastic pipes and emission devices that:
Delivers water and nutrients directly to the soil and roots at low pressure and flow rates
Is typically operated at frequent intervals of varied duration to address multiple farming objectives and challenges associated with managing moisture in the crop rootzone
May accommodate a wide range of block sizes, shapes, and flow rates
Allows easy access to the field for cultural operations, sometimes even when irrigating
Subsurface Drip Irrigation (SDI)

Subsurface Drip Irrigation is a specialized sub-set of drip irrigation where dripline or drip tape "lateral lines" (tubes buried beneath the crop rows) and supply and flushing "submains" (pipes supplying water to the lateral lines) are buried beneath the soil surface for multi-year use. The technique of burying less expensive Bi-Wall drip tape laterals beneath field crops was pioneered in the American Southwest decades ago, and has since been implemented by researchers and growers alike. The SDI technique is now being used throughout the world on a wide range of grain forage and fiber crops including alfalfa, corn, cotton, soybeans and sugarcane. In addition to drip tape, thinwall integral driplines are commonly used as well.
Advantages of Subsurface Drip Irrigation

Common benefits of drip irrigation include yield increases, crop quality improvement and better resource use efficiency. These benefits are also typical in SDI applications, along with improved flexibility, convenience and the ability to farm in drought conditions.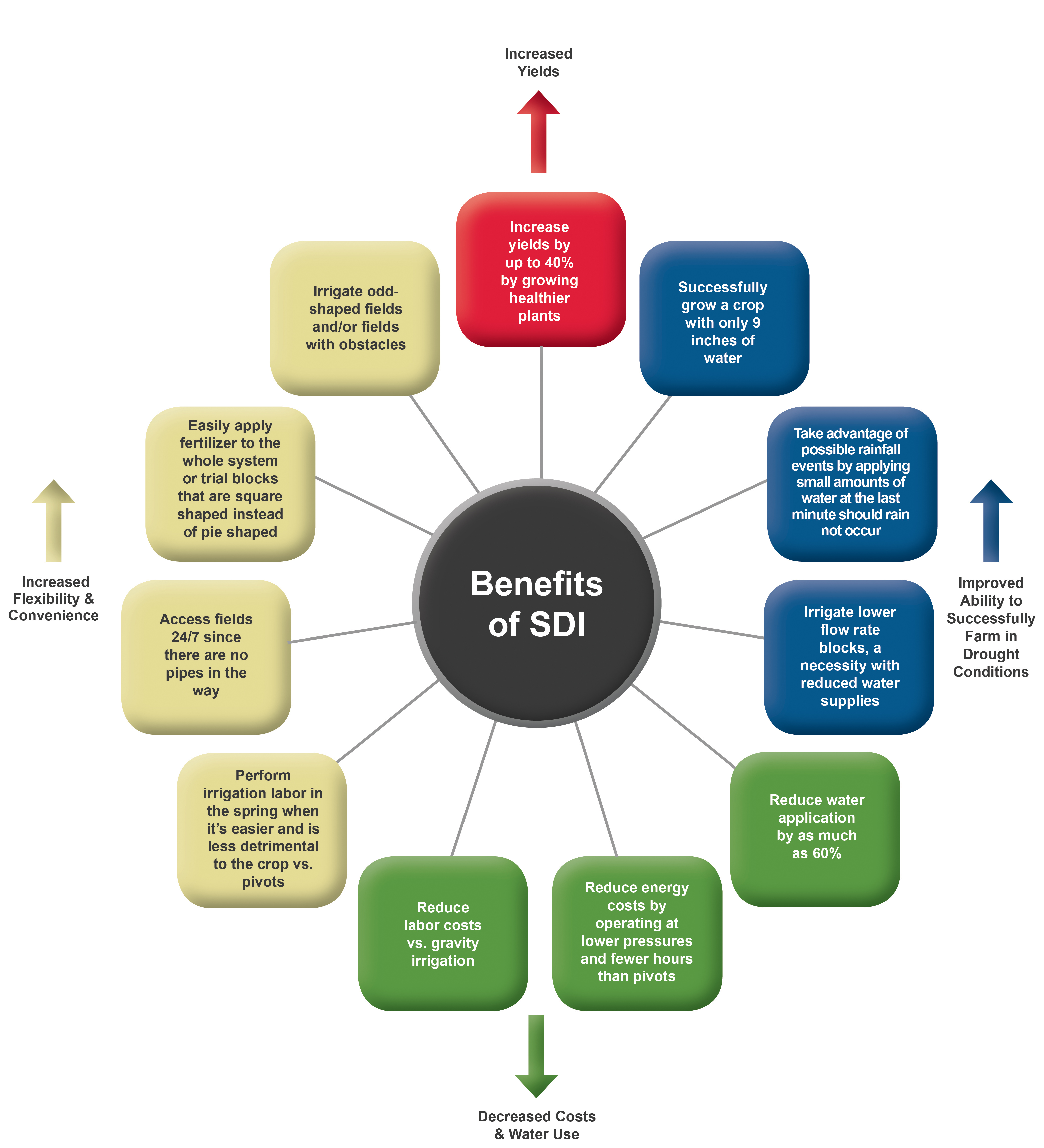 Typical SDI Set-up and Layout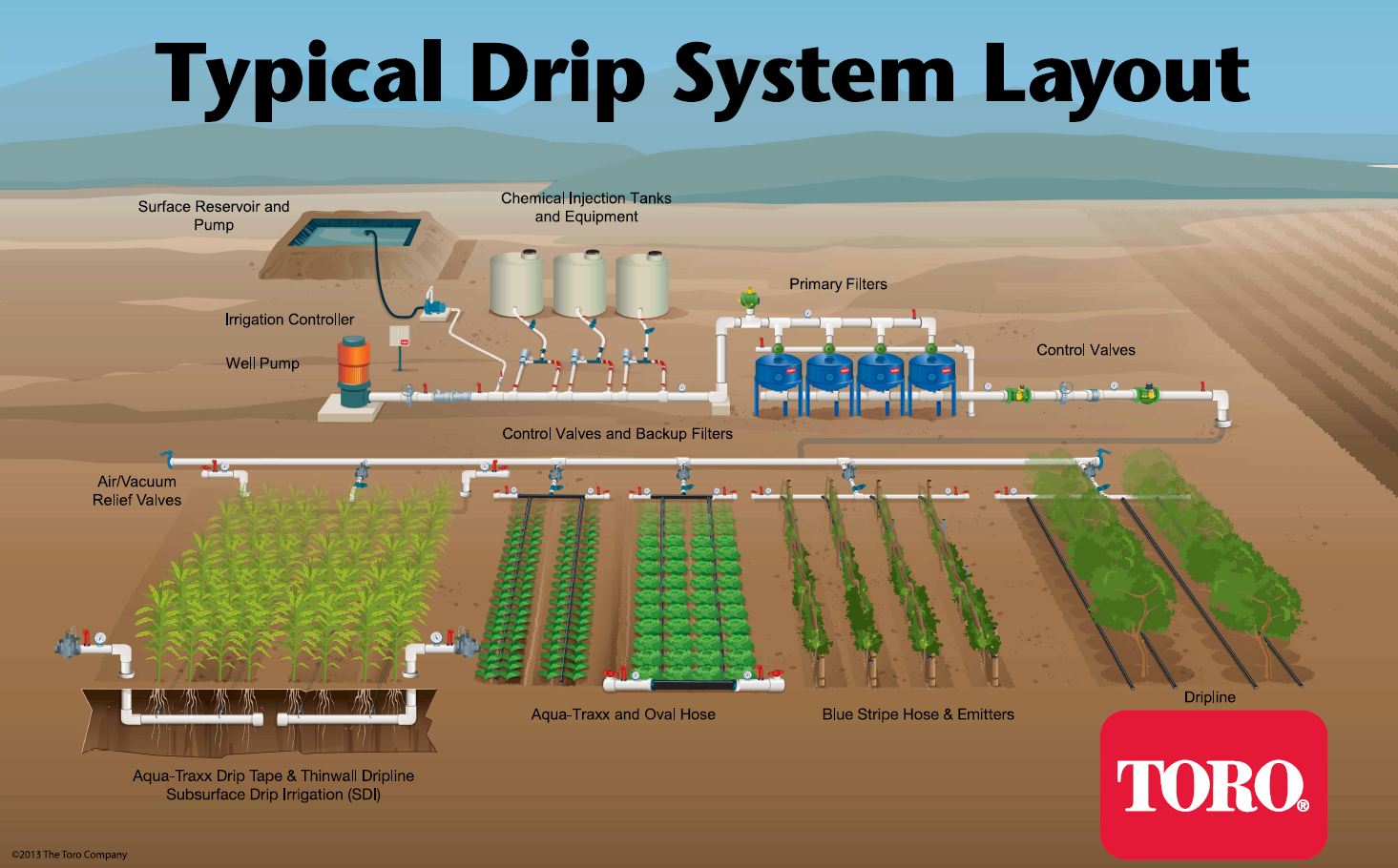 In contrast to surface or hybrid drip systems for fruit or vegetable crops, SDI systems are buried, use rigid PVC pipe submains and flushing manifolds, and are well maintained for multiple crop use. The choices of laterals, submains, accessory equipment and application rate depend on many factors including soil type and water conditions, cultural practices, and field size, shape and topography. Low application rates are often selected in order to reduce overall system cost. The diagrams below show typical layouts for fruit, nut, vegetable and field crops. Click here to download a larger image or view the animated version of the Typical Drip System Layout.
Special Considerations for SDI
SDI systems are expected to last for many years. As a result, they must be designed, installed, operated and maintained properly. Common challenges include emitter clogging, root intrusion, vacuum suction and insect, rodent and mechanical damage – all of which may be successfully addressed with proper planning and management. For more information on proper design, installation, operation and maintenance, contact your nearest authorized Toro dealer or click here to download the Drip Irrigation Owner's Manual.
Selecting SDI Laterals
The SDI lateral line tubes (Aqua-Traxx® or Thinwall) are buried beneath the crop and deliver water and nutrients directly to the soil and plant roots to support crop growth. The following guideline may be used to begin the selection process based on soil types, crop layout, water quality and availability, desired application rate, desired emitter spacing and environmental and hydraulic considerations. Note that in the selection process, lateral line flow rates must be determined. Many refer to the lateral flow rate as the Q100, or gallons per minute per 100 feet (gpm/100'), which is dependent upon the emitter flow rate and the emitter spacing. In addition,
the lateral internal diameter and lateral wall thickness must be chosen. An authorized Toro dealer or representative will be happy to assist with this selection process.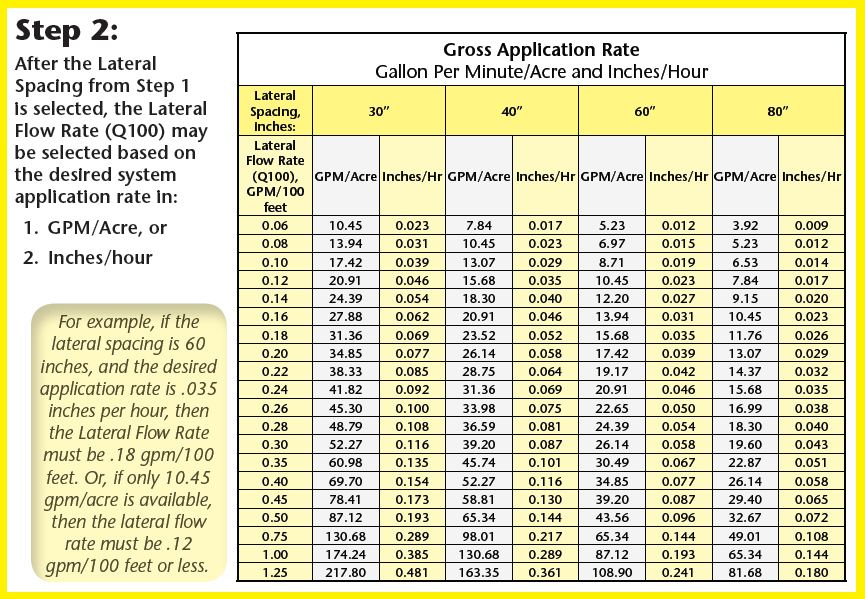 Note: Systems with low lateral flow rates are usually less expensive.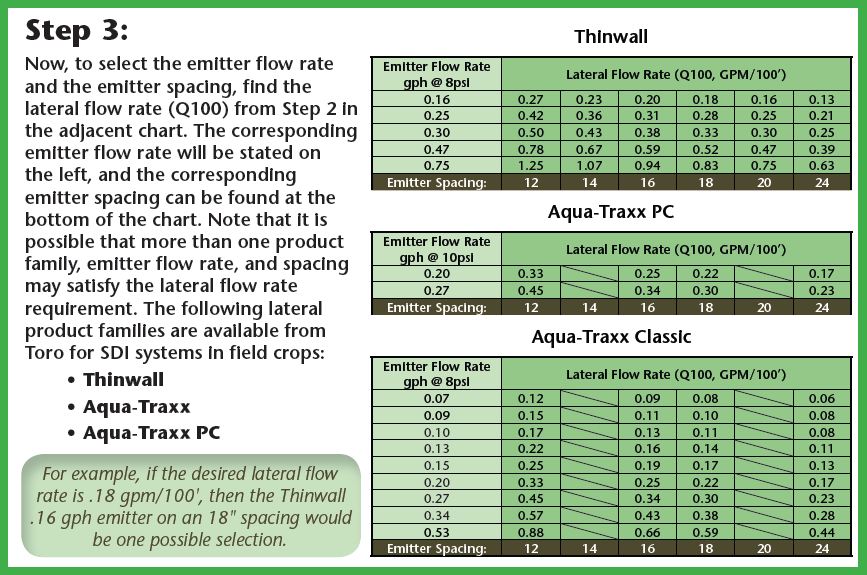 Note: SDI systems typically use an emitter spacing between 12 and 24 inches dependent upon soil texture.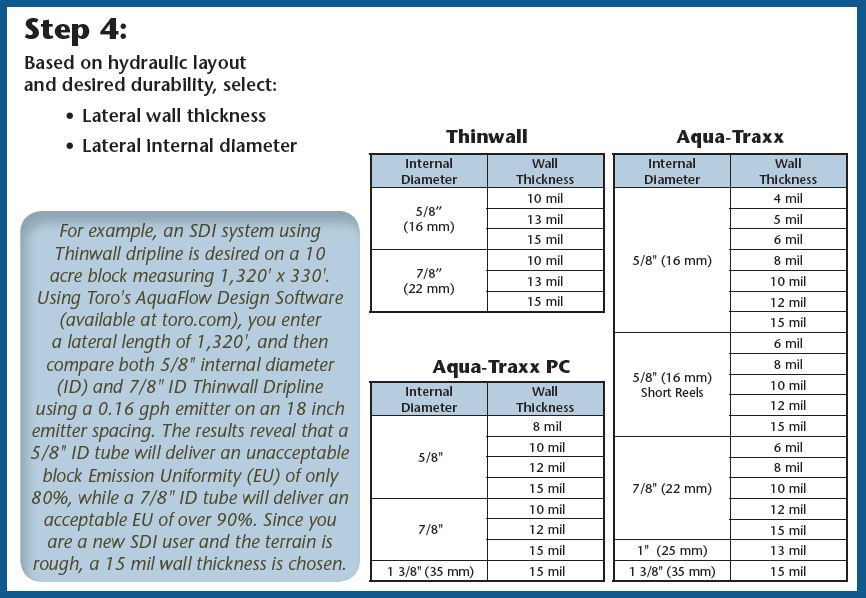 Note: Thicker mil tubes perform best in rough soil conditions; larger diameter lateral lines allow longer lateral lengths of run and potentially fewer submains.
Additional Considerations for SDI
Submains, both inlet and flushing:
Submains depth: typically 2-3 feet deep
Submain material: rigid PVC pipe or HDPE pipe
Submain to lateral connections: saddles or grommet type connectors
Submain quantity may be reduced by using larger diameter laterals
Flushing submains are often divided to help achieve proper flushing velocity
Accessory equipment:
Filtration: 120 – 200 mesh equivalent
Chemical injection: multiple tank systems typically apply acid, chlorine and fertilizer
Valves: manual or automatic
Controls: AC or DC; wire or radio
Monitors: pressure, flow, PH, EC
Cultural practices: SDI is compatible with no-rill, minimum till and conservation tillage practices that avoid disturbing the soil and buried driplines
Installation: SDI systems should be installed carefully since they are xpected to last multiple years. Modern SDI systems are typically installed using precise GPS systems so that operators know the exact location of the buried equipment.
The lateral lines should be installed with the emission device facing upwards to help prevent clogging from any contaminants that may enter the lines (When using Toro products, such as Aqua-Traxx or Thinwall Dripline, install with the Blue Stripes up).
Lateral line injection equipment should be inspected daily and be free of sharp edges, burrs, and areas where the tubing could be damaged. Bends, rollers and other points of contact with the tubing should be kept to a minimum to reduce both the possibilities for damage and incorrect tension on the tubing as it is injected.
Tubing ends should be closed off by kinking or knotting until they are connected to submains.
It is strongly recommended that the lateral lines are monitored as they are injected into the soil. Someone should be watching to insure that the tubing maintains its emitter-upwards orientation, to assist in case the tubing becomes tangled in the injector, and to signal the tractor driver when the tubing reel is empty and needs to be replaced.
Toro Products & Services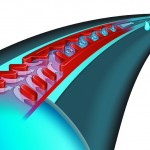 Aqua-Traxx "Classic" Drip Tape: Built with a rotary molded flow path for optimal precision, water flow, and clogging resistance.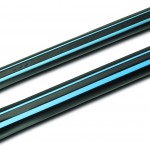 Aqua-Traxx "PC" Drip Tape (pressure-compensating): Built with a rotary molded pressure-compensating flowpath for long runs or hilly terrain.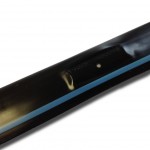 Thinwall Dripline: Built with a pre-installed discrete emitter for demanding applications.
To be successful, an SDI system needs to be built to perform and last, so selecting products and a qualified dealer is extremely important. Contact driptips@toro.com to find an authorized Toro dealer. Click here for more information and additional Toro drip irrigation products.
SDI Tools
Drip Irrigation Payback Wizard: Toro's "Drip-Micro Irrigation Payback Wizard" helps estimate how long it will take to pay for the SDI investment. Simply enter the state, crop, acres, current irrigation system type and the water cost per acre foot to view a report that is based on average data. Then, if desired, you can easily customize the report with your own data. Sometimes it is estimated that the system could pay for itself within months!
AquaFlow – Drip Irrigation Design Software: AquaFlow was developed to
ease and improve the design process, and is also available to those who wish to pre-qualify flow rate choices and system layout options in advance. Since AquaFlow uniquely displays both the block uniformity and flushing velocity on one screen, it is especially valuable when used to design SDI systems even the type of system cialis online. Toro recommends that final SDI systems be professionally designed
by an authorized Toro Dealer or Certified Irrigation Designer.
Drip Irrigation Owner's Manual: Toro's Micro-Irrigation Owner's Manual is a 129-page, four-color, spiral-bound document written in layman terms for farmers. Beautifully illustrated, it is a comprehensive guide to the operation and maintenance of both new and existing microirrigation and SDI systems for row, field and permanent crops. It's available in both English and Spanish, with measurements in English and Metric Units. Click here to download a free copy.
Click here to download Toro's official guide to Subsurface Drip Irrigation (SDI). For Spanish, click here.