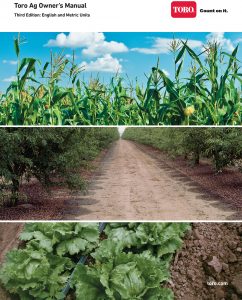 The Drip Irrigation Owner's Manual was developed by Toro to be a comprehensive drip irrigation guide for both new and existing row, field, and permanent crop growers. Now in it's Third Edition, the award-winning manual helps growers take full advantage of the precise, efficient, and practical benefits of a drip irrigation system. Topics include drip irrigation system overview, starting-up your drip irrigation system, basic system operation, fertigation, chemigation, salinity management, system maintenance, and maximizing your investment.
This 129-page, four-color, fully illustrated, spiral-wound document is a comprehensive guide to the operation and maintenance of both new and existing micro-irrigation systems for row, field and permanent crops. The resource comes in both English and Spanish versions, with measurements in English and Metric Units. Chapter titles include:
Drip Irrigation System Overview
Starting Up Your System
Basic System Operation
Fertigation and Chemigation
Salinity Management
System Maintenance
Maximizing Your Investment
References
Appendix
System Information
The Drip Irrigation Owner's Manual heavily references both government and academic sources, is beautifully illustrated, and is simply written in lay terms.
Now includes both English and Metric units, and is available in English, Spanish, Italian, and Chinese languages!