Subsurface Drip Irrigation is the "Future" for Grain Producers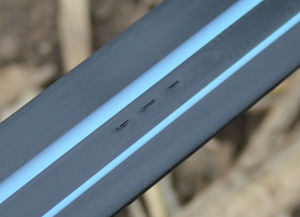 Some growers in the Midwest have seen "tremendous" yields with subsurface drip irrigation (SDI).  According to a recent article in Midwest Producer, Neil Corey of McCook, Nebraska has been using subsurface drip irrigation on 40 acres of his own crop for 15 years, and has experienced the benefits of subsurface drip irrigation.  Corey says that he has consistently seen yeilds 40-50% more with his subsurface drip irrigated field than a neighboring pivot field.  What's more, water efficiency for subsurface drip irrigation is more than 90%, as opposed to flood irrigation which is typically 40-50%, or pivot irrigation which is typically 60-70%.
Although the conversion may require an up-front cost and a slight learning curve, the payback is relatively quick.  Corey says the efficiency of SDI makes it the future of irrigation.
Click here for the entire Midwest Producer article on Subsurface Drip Irrigation.