Toro Expands Drip Irrigation Recycling Service in central California Coast region; Plus a special introductory offer for qualified growers

Toro is pleased to announce that, effectively immediately, its award winning drip irrigation recycling service will now offer expanded service capabilities in the central California coast region. The service is a result of Toro's ongoing commitment to help farmers maximize production with efficient, sustainable drip irrigation practices, including the recycling of spent drip irrigation tapes and driplines. The service is offered in partnership with Revolution Plastics, a national leader in agricultural plastic recycling with operations in Arkansas, Wisconsin and Texas, and now a new facility in California.
"Toro knows that drip irrigation is innovative technology that helps farmers produce more with fewer resources, but also recognizes that at the end of its life, drip irrigation becomes plastic that needs to be recycled," says Phil Burkart, VP of Irrigation and Lighting at The Toro Company.
"For this reason, we have entered a marketing agreement with Revolution Plastics to offer superior, sustainable recycling services to drip irrigators nationwide."
Revolution recently expanded their service in California to include improved facilities in Ballico, and a new location in Camarillo to better service California's coastal growers. More details about Toro's Drip Irrigation Recycling Service are available here.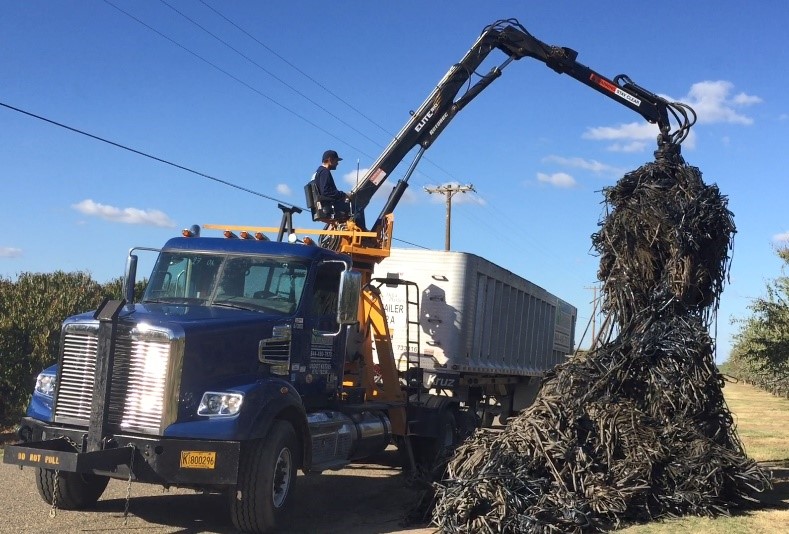 Growers Review: Toro's Drip Irrigation Recycling Service

Jeff Dosio, from Modesto, California, and co-owner of Pacific Agri-Lands, grows 12,000 acres of wine grapes, and has used the service for over five years. "I've been pleased with the service – plus it's free! Otherwise I'd have to pay to take my old vineyard hose or dripline to the dump."

Dave Bricker of Victoria Island Farms of Holt, California routinely recycles drip tape from their 6,000 acres of asparagus, tomatoes and other crops. "Toro referred me to Revolution Plastics when my other recycler was full. They showed up the next day, exactly when they said they would, and left the site neat and clean, which is very important to us. I'm definitely calling Revolution Plastics next time."
Award Winning Drip Irrigation Recycling Service
Toro's Drip Irrigation Recycling Service recently gained nationwide recognition at the Irrigation Association's (www.irrigation.org) annual convention in Las Vegas, where it won the 2016 New Product Contest – Specialty Agriculture.
The service's Ag Plastic Pickup mobile application impressed judges, as did its unique, sustainable business model.
Schedule Plastic Pickup from Mobile App
"The App is ridesharing for ag plastic – it really is that easy", says Louis Vasquez, Director of Corporate Development, Revolution Plastics.
Farmers use the mobile app to conveniently schedule their plastic pickup service in a few easy steps: simply upload a photo of the plastic to be recycled, drop a pin on the location, and then press submit.

About Toro's Drip Irrigation Recycling Service
Introducing the award-winning, state-of-the-art drip recycling service from Toro Ag and Revolution Plastics.
Convenient on-farm pick-up
Quick service
Stream-lined communication through mobile app
PROGRAM REQUIREMENTS:
Growers must have at least 5,000 pounds to qualify for a pick-up
Material must not be intermingled with other plastics
Material must be mostly free of trash, wood, rocks, tires and other foreign materials
The pick-up location must be accessible to a 65 foot tractor trailer
OTHER PLASTICS ACCEPTED FOR FREE:
Almond Cover
Greenhouse Film
Hoophouse Film
Silage Plastics
Vine Cover
---
---
LIMITED TIME BONUS OFFER: Recycle Drip Irrigation, Buy Drip Tape, Get a Free Pallet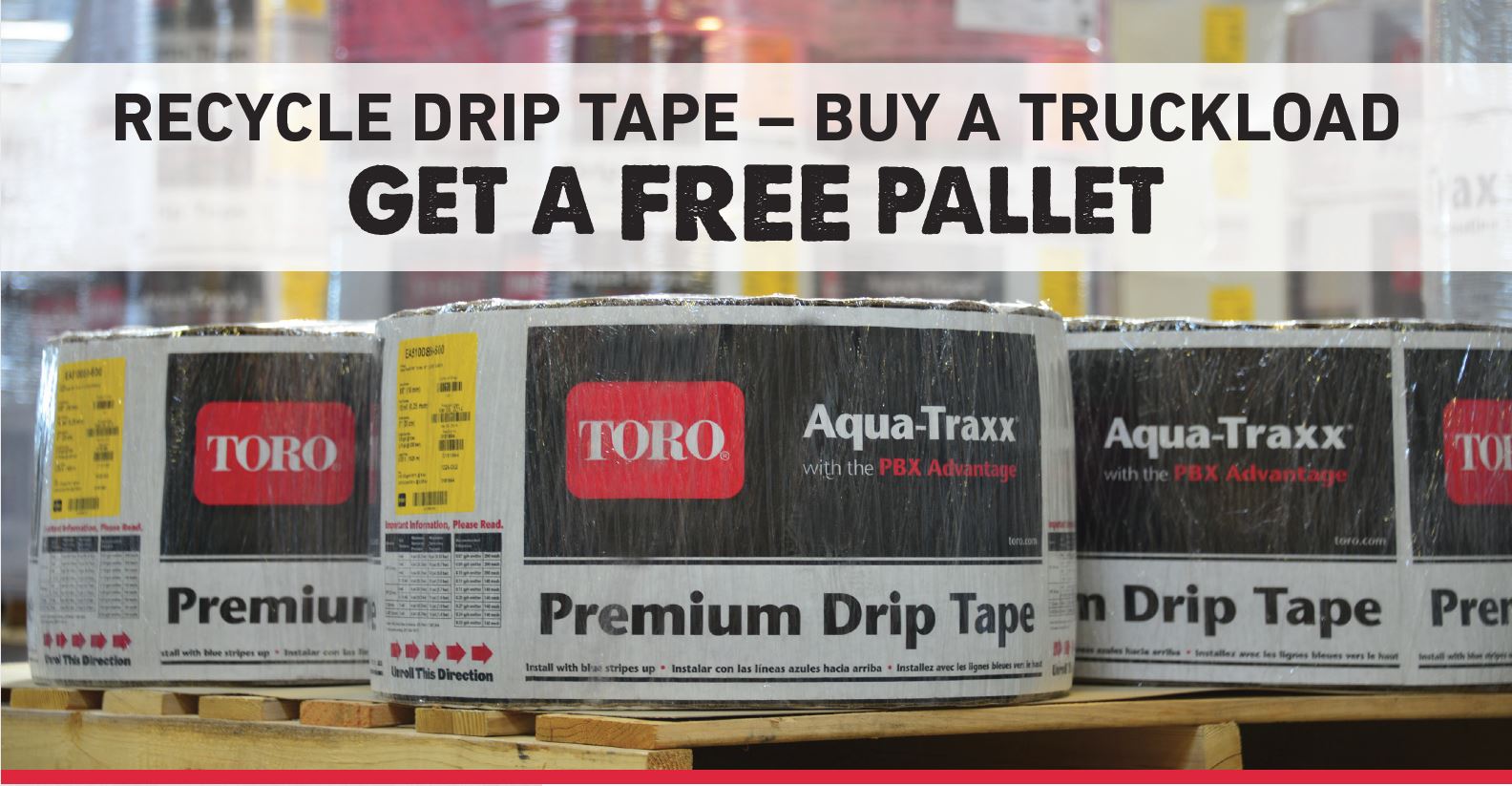 In honor of the Recycling Service's growth, Toro is giving away free product during their "Free Pallet of Drip Tape" promotion. To qualify, growers must recycle 25,000 pounds of drip tape or dripline (of any brand) with Toro's Drip Irrigation Recycling Service between June 1 and October 31, 2017 operated by Revolution Plastics, and buy a truckload of 480 reels of Toro drip tape from an authorized Toro dealer.
Please note: This offer is only available to specific Central Coast California locations, and is available until October 31, 2017. There are no limits to quantity per farmer. Cannot be combined with other offers. Please review the full program details here.
"This offer is too good to refuse, considering many farmers pay to dispose of used drip tape and driplines. Revolution Plastic's state-of-the-art grapple hook trucks make field prep easy for the farmer, and pickup turnaround time fast," says Inge Bisconer, Technical Marketing and Sales Manager for Toro.
---