Original post by www.freshfruitportal.com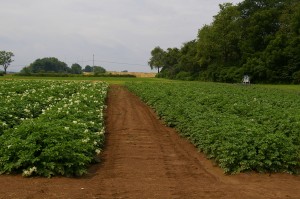 A Florida-based potato farmer who recently won an award for his sustainable irrigation methods firmly believes all farmers should adopt subsurface drip irrigation (SDI) for the good of the planet.
Riverdale Potato Farms vice president and third generation family member Bryan Jones, last month received one of the state's Agricultural-Environmental Leadership Awards for the subsurface drip irrigation system he developed with his father.
Jones told www.freshfruitportal.com they first decided to experiment with placing irrigation 'tape' below the soil in order to save on the labor costs of moving the equipment around each year, which was necessary in their part of Florida.
"We experimented to begin with. We had several acres that we started off with and we did a lot of runs of tape for our beds," Jones said.
"Our beds are 60ft wide and we have 16 rows that we plant on. So we tried every other row, we did some beds that had four lines of tape, and we really found that we could do it with two to three lines of tape depending on the soil.
"The results are remarkable."
Jones said that in his area of Florida, when growers used conventional irrigation methods it would often take two weeks for the water to get to the other end of the ditch where it was pumped due to the sandy soil type.
"Some areas irrigate pretty well and it might take just a few days. But in our worst irrigating ground it's almost like the desert," he said.
Jones explained that a typical 'irrigation season' lasted around six to eight weeks, and using conventional irrigation methods water would have to be pumped continuously during that time.
With subsurface drip irrigation on potatoes, water only runs for eight to 10 hours a week.
"On average years, and I highlight 'average', we're using anywhere from 300,000 to 400,000 gallons of water per acre to grow a crop," Jones said.
"With the new method, we're still trying to figure out how many hundreds of thousands, and in my opinion million of gallons, we're going to save. And there's virtually no water run-off."
Jones added he believed growers had a responsibility to be good 'stewards' to the land they depend on for their livelihoods.
"I'm trying to shout at the top of my lungs, to all the growers in my area 'look, this is so remarkable, it's so fast, it's so effective that we can do a major service to our earth," he said.
A further advantage of using subterranean irrigation is that the farmer can decide exactly how much water each specific area of the farm receives, according to its soil type.
"We can customize each zone, we can customize each bed each field – you can get as picky as you want – but it allows us to farm the way we can farm best," Jones said.
"Instead of irrigating for the entire field I can now irrigate per 60ft bed, and that makes a huge difference.
"All we're trying to do is put the water where it needs to be, bring that water table up and shut it down. We don't want to waste any water."
Jones also described how he was able to increase yield by using newly developed banding equipment to put fertilizer on top of the crop bed along with the subsurface drip system.
"Now I can control my water, bring the water table up evenly exactly where it needs to be, I'm putting fertilizer exactly where it needs to be, so my yield has increased, my run-off is zero and all my nutrients are staying in the field," he said.
"The yield goes up because everything is consistent. When it goes down the outside the outter rows get super saturated first and it takes a long time for the water to get to the center of the bed.
"So during that time that plant is stressed. Now I'm able to bring the bed up and down evenly. So my plants are able to grow a lot more evenly."
A solution For All
Jones said virtually all farmers of any crop grown in the soil stood to benefit greatly from adopting the innovative irrigation method.
"I believe that there are growers all over the country who could, and should be using it," he said.
"Even if you have wonderful irrigating ground, you're still irrigating your ground 24 hours a day seven days a week of the irrigation season."
Jones added that the method could be particularly beneficial to growers in California who are facing one of the worst droughts in decades, with groundwater supplies rapidly being used up.
"We could save hundreds of millions of gallons, just in my little area," he said.
"All fruits and vegetables. If you want to put it on your cucumbers, lettuce, squash, beans, it doesn't matter.
"So it my opinion it is the future and it needs to be the future and it needs to be on everybody's radar because I don't need to tell anybody how important water is."
Click to learn more about subsurface drip irrigation or drip irrigation on potatoes