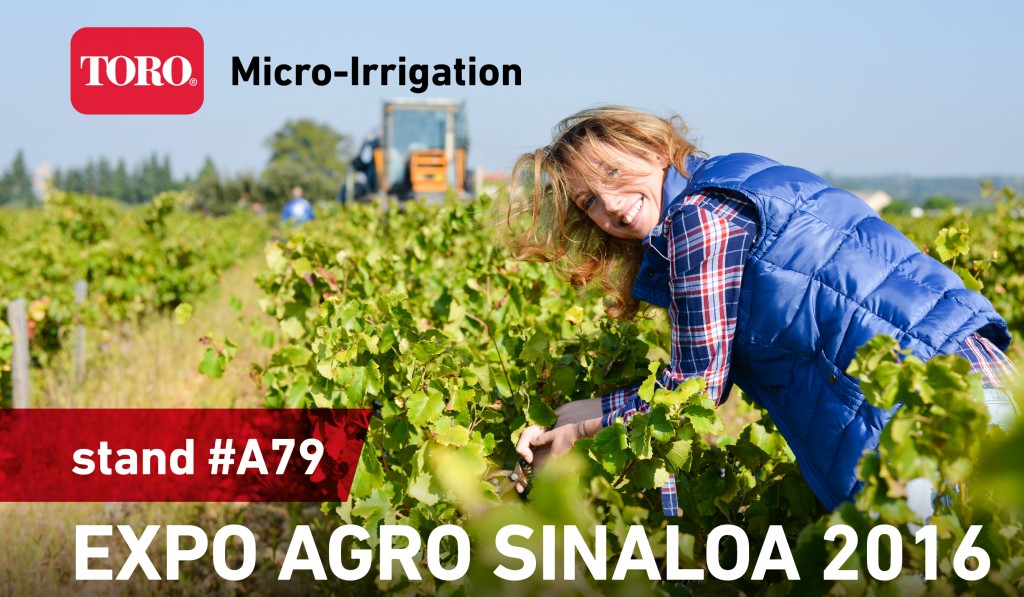 Del 17 al 19 de febrero, Toro estará presentándose en la Expo Agro Sinaloa en Culiacán, Sinaloa, Méx.
Si asistes al evento, asegúrate de visitar el stand A79 y echar un vistazo al rango amplio de soluciones de riego que Toro ofrece incluyendo algunos de nuestros productos más innovadores:
Aqua-Traxx® FC (Control De Flujo) – la única cinta de riego en la industria que controla el flujo lo cual brinda a los agricultores lo mejor: mayor uniformidad de riego Y la flexibilidad de controlar el flujo
BlueLine® Manguera con Goteros Premium – manguera con goteros de pared gruesa para aplicaciones de cultivos permanentes que cuenta con un diseño innovador de gotero integrado el cual brinda mayor durabilidad, precisión en caudales y resistencia al taponamiento
Neptune – lateral con gotero de pastilla
Además del amplio Manual de Usuario de Riego por Goteo de Toro –único en la industria– por mencionar solo algunos
También estaremos en la disponibilidad de responder a todas sus preguntas acerca del riego por goteo o dar demostraciones de AquaFlow4, nuestro software para el diseño de sistemas de riego.
Así que visítanos en el stand A79 para enterarte de las novedades de Toro y aprender acerca del futuro del riego por goteo.
---
From February 17 to February 19, Toro Micro-Irrigation will be exhibiting at Expo Agro Sinaloa in Culiacán, Sinaloa, México.
If you are attending the show, be sure to stop by booth A79, and check out Toro's full range of irrigation solutions, including some of our most innovative products:
Aqua‐Traxx FC (Flow Control) – the only flow-controlling drip tape in the industry, giving growers the best of both worlds: superior irrigation uniformity AND the flexibility to adjust the overall system flow rate
BlueLine premium dripline – a heavy‐wall dripline for permanent crops that boasts an innovative in‐line emitter design that provides superior durability, propecia online, flow accuracy, and plugging resistance
Neptune – flat emitter dripline
And the only comprehensive Drip Irrigation Owner's Manual in the industry – just to name a few
Plus we'll be available to answer all of your drip irrigation questions or give demonstrations of our FREE drip irrigation design software, AquaFlow 4.
So stop by booth A79, see what's new from Toro, and learn about the future of drip irrigation.