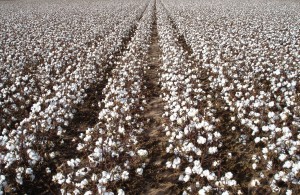 Young Farmer, Kris Verett, didn't plan on following in his father's footsteps and becoming a farmer.  But at 28, he joined the One-Ton Club at the Texas Gin Show in Lubbock for his drip irrigated cotton.
Verett contributes his success to Subsurface Drip Irrigation (SDI), good system management, and variety selection.  His record yields were produced on two SDI irrigated 40-acre blocks with FM2989 and FM9170.
Click here to learn more about Kris Verett and his one-ton cotton yields in this article by Southwest Farm Press.