Automated Sand Media Filters for Drip Irrigation
Toro is pleased to announce that Aqua-Clear™ fiberglass sand media filters are now available in a complete automated system, for flows ranging from 50 to 400 gpm.  Aqua-Clear filters are corrosion-resistant, designed for drip irrigation systems operating up to 75 psi, and are available in 18-, 24-, 30- and 36-inch systems. Some of the new features include:
AC and DC options to automate filter backwash on any site
Automated systems complete with all valves, controller and hydraulic connections
English and Spanish language–detailed and illustrated operation manual
Double-chamber backwash valve for reliable, low–head loss operation
Solid-state controller backwashes on both time and pressure differential
Expansion modules for simple addition of a single filter to an existing system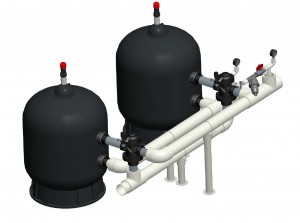 Aqua-Clear filters for drip irrigation have gained popularity due to their lightweight and non-corrosive construction.  This makes them a great fit for growers with approximately 2 to 20 acres who want to have a professional and durable filtration solution for open-water sources.  Now with the fully automated version, Aqua-Clear filters will largely manage themselves, giving growers more time to manage or perform other duties.