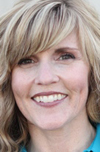 On Friday, August 16, 2013 at 10AM (Pacific Time), the Grange Network will be hosting a 60-minute, FREE webinar to discuss unique and new approaches that help growers maximize production, optimize plant genetic potential, and reduce total inputs through sound agronomic innovation.
Click here to register for the FREE webinar, "Innovations in Plant Management."
Date: Friday, August 16, 2013
Time: 10AM Pacific / 1PM Eastern (60 Minute Session)
Ways to attend: Audio/Visual webinar available online. For audio only, a dial-in telephone number will be provided. If you can't attend at the above time, the recording, podcast, and other materials will be sent after the webinar. However, to receive the post-event recording/materials you will have to register (so if you can't attend, register anyway).
About the Presenter: Julie Sannar is the General Manager at Soil Basics.  She has over 20 years of experience in the industry and obtained a BS in Agronomy and Agribusiness from Brigham Young University.